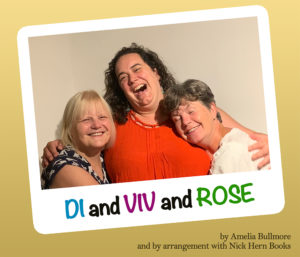 The box office is now open for our October performances of Di and Viv and Rose!
Di and Viv and Rose, by Amelia Bullmore, is our October show, to be performed on October 18th, 19th, 25th and 26th.
Our production of Amelia Bullmore's play, stars Mari Fleming as Viv, Kerry Thomas as Di and Cathy Ramsell as Rose.
Please note: This play contains adult language and adult themes, and isn't suitable for children.
Three women join forces. Life is fun. Living is intense. Together they feel unassailable. Crackling with wisdom and wit, Di and Viv and Rose is a humorous and thoughtful exploration of friendship's impact on life and life's impact on friendship.
Di and Viv and Rose charts the steady but sometimes chaotic progression of these three women's lives and their ultimately enduring bonds. The varied journeys of their lives take their toll on the characters, forcing them apart and stretching their relationships with each other to a near breaking point.