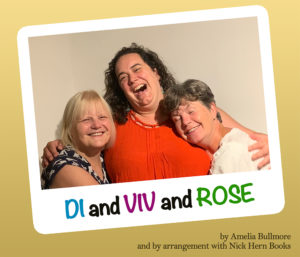 Our October Play has switched, and this time the girls just wanna have fun!
Di and Viv and Rose, by Amelia Bullmore, is our October show, to be performed on October 18, 19, 25 and 26th.
All of us at MDS were disappointed to find that staging Just The Ticket had a few too many challenges, and we therefore decided to put the play on hold for a later date whilst we worked through some possible solutions. It is a great play and one we will definitely come back to in the future.
However, as they say, every cloud has a silver lining, and through various discussions the play, Di and Viv and Rose, was considered and ultimately chosen to be performed by MDS this coming October.
Our production of Amelia Bullmore's play, stars Mari Fleming as Viv, Kerry Thomas as Di and Cathy Ramsell as Rose.
Three women join forces. Life is fun. Living is intense. Together they feel unassailable. Crackling with wisdom and wit, Di and Viv and Rose is a humorous and thoughtful exploration of friendship's impact on life and life's impact on friendship.

Di and Viv and Rose charts the steady but sometimes chaotic progression of these three women's lives and their ultimately enduring bonds. The varied journeys of their lives take their toll on the characters, forcing them apart and stretching their relationships with each other to a near breaking point.
We'll have more information on the box office very soon so keep an eye on the website!